The Mother Who Stayed: Stories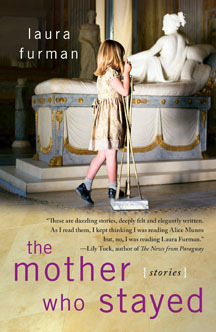 The Mother Who Stayed: Stories
"No book could be more beautifully formed or more deeply satisfying than The Mother Who Stayed, with its stories in sets, expanding and correcting each other, offering surprises. With unflinching accuracy, Laura Furman has traced versions of mothering — simulated, lacking, and real — in rich, precise fiction."

—Joan Silber, author of The Size of the World
and Ideas of Heaven
My Novels and Story Collections
Windedale Books, 2001
Furman's portraits of her characters are rich in telling details, showing them utterly and convincingly rooted in their worlds. Her luxuriant histories of grief are sure and exact, drawing the reader in and rarely loosening their grip.
—Deborah Mason, The New York Times Book Review
Summit Books, 1986;
reissued by Winedale Books in 2000
"
Tuxedo Park
is something we see too little of these days: genuinely adult fiction.
— Jonathan Yardley, The Washington Post Book World
Tuxedo Park
is the best entertainment imaginable, rich in plot and event, pulling the reader from page to page as powerfully as the most suspenseful thriller. But it's also good literature. It's finely crafted, each character lovingly, carefully wrought, each scene meticulously colored and every detail palpable.... This is a book that first catches your eye and then grabs your heart. It hangs on and won't let go."
— Anne Tyler, USA Today
Viking Press, 1983
"Miss Furman writes about the Vietnam-influenced generation of passively waiting lost souls, young women and men more concerned with relationships than with careers, basically urban characters who are nonetheless willing to immerse themselves in gardening, home repair and other rural/suburban pursuits. Yet Miss Furman is a more subtle writer than her topics would suggest, largely because of her restrained style. The stories in Watch Time Fly are deceptively simple; they illustrate the way in which masterful skill can disguise itself as an innocent lack of literary self-consciousness."
— Wendy Lesser, The New York Times Book Review
Viking Press, 1982
"Furman's prose, clear as glass, gives the reader an unobstructed view of her characters. She is a writer of great tact and discretion, a disciplined observer with an eye for the detail that brings into sharp focus the most subtle feelings."
Washington Post Book World
Windedale Books, 1996
Ordinary Paradise
shows how a devastating loss, acknowledged or not, can seep through the family psyche.
The New York Times Book Review
"Widely regarded as the nation's most prestigious awards for short fiction."
—The Atlantic Monthly


"[The PEN/O. Henry Prize Stories 2010, Edited by Laura Furman is] dazzling . . . . Suffice it to say, this is a selection of the best that contemporary literature offers us. Redemptive, suffocating, searing, illuminating, unsettling, haunting, memorable – pick an adjective; perhaps the only one that would not apply is comfortable."
Christy Corp-Minamiji, Blogcritics.org, April 01, 2010